Posts Tagged 'Cubeecraft'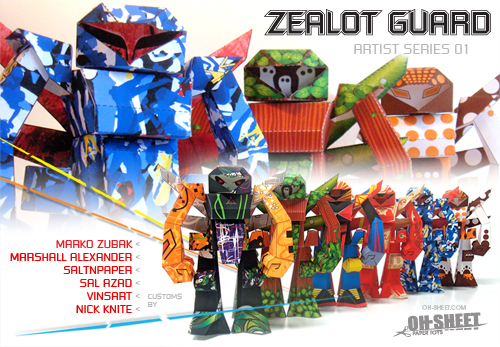 Zealot Guard Artist Series 01 is finally here!
We've had the great opportunity to work with some of our favorite artists in the paper toy world to bring you these six amazing customs. Each one is unique, all are freakin' awesome! Head over to the Zealot Guard page to download the templates.
A huge THANK YOU to Marko Zubak, Marshall Alexander, Saltnpaper, Sal Azad, Vinsart and Nick Knite for lending their talents to this series and for making it something to truly be proud of. If you'd like to see more art by these stellar artists, be sure to visit their websites. You'll want to do this! But stock up on paper and ink first!
'Zombie BFF' Cubeecraft Custom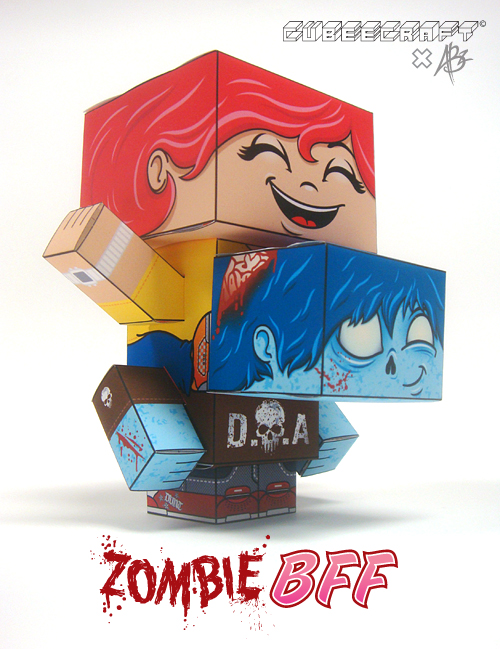 If you haven't already downloaded our latest custom 'Zombie BFF', pop on over to Cubeecraft.com for the template. You'll find it in the Designer Originals section along with other really great Cubeecraft customs. Cubeecraft is one of our favorite paper toys and we were so stoked to finally do a custom. Enjoy!
Xander
Xander, the newest addition to the Twitch series is now available for download here. Xander rocks red streaks in his hair, a koi tattoo and a bleeding heart shirt featuring lyrics from Paramore's 'My Heart'.
Also, the Twitch blank template has been updated and is now online. The modifications should allow for an easier build. For those of you interested in taking a shot at doing a custom, head on over to the Twitch page.
More! Paper Totem! Customs!

Speakerbugs! by UK artist Ben the Illustrator
This rockin' Paper Totem! by Loulou & Tummie
Little Monsta's! by Sal Azad
Double Trouble by Lunartik
All of these fantastic paper toys are courtesy of Dolly Oblong and contributing artists and are available at Dolly's site Dollyoblong.com
While you're there, be sure to download Bang Bang & Paper Stickies as well.
Calling All Cars and Snake Eyes by Horrorwood
Calling All Cars Wave 2, featuring more great artists is now available here.
Snake Eyes Artist Series 1, featuring several NPT members is available here.
Also be sure to check out these amazing Horrorwood and Nanibird collaborations.
They can be downloaded at Horrowood's website as well as Josh McKible's (creator of Nanibird) site Nanibird.com
Cubeecraft
The latest additions to the Cubeecraft universe. They're all awesome! You can find them at Cubeecraft.com
Coming soon…
Harlancore's PersonaFan series 4 : Devil Summoners VS Darkstalkers
To keep yourself occupied until the release, download and build the latest paper toys from his BOXPUNX series 7 : Innocence and Rainbows
iPapertoys
Can't get enough paper toys? Visit iPapertoys, a website/database dedicated to paper toy artists and paper toys. Thanks to NPT members BW and swiss-creation for the paper toy goodness!

Urban Paper
If you haven't already picked up your copy of Urban Paper by Matt Hawkins, we highly recommend you do so. The book includes loads of awesome paper toys with interviews from the designers as well as a DVD full of templates and other goodies! Get a copy of the book by clicking on the Amazon link on Matt's website Custom Paper Toys.
If you're in the Los Angeles area, help Matt celebrate the release of Urban Paper on May 2nd at Mobius, 3300 W. 6th St. @ 7pm. Matt, Brian Castleforte aka Nicebunny and Christopher Bonnette will be there to sign books. Don't miss it!
Calling All Cars
Horrorwood, one of the artists featured in Urban Paper, is also celebrating the release of the book by calling all customizers to customize his paper toy, "Go Bananas". There are lots of great customs popping up. Here are some of the recent ones:
by Scott Schaller
by DMC
by Jason Harlan
You can check out more customs on Horrorwood's blog as well as on NPT. If you want take a shot at doing a custom, download the template from the Horrorwood Hills.
Smasher!
Paper toy artist and maker of the cutest plush dolls around, Dolly Oblong, has teamed up with Portuguese magazine Smash! to create Smasher! This paper toy is exclusive to Smash! so if you live in an area that distributes the magazine, go out and get it. Visit Dolly's website for more paper toys and plush dolls.
Foldskool Heroes to the Rescue
One of our favorite designers, Sal Azad, received word that the Foldskool Heroes created by Marshall Alexander have played a positive roll at his local street kids foundation. Read more about the project on Sal's website. For Foldskool Heroes, visit Marshall Alexander's website.
200 Cubeecraft
R2-D2 has just been added to the Cubeecraft collection making it a total of 200. Other recent additions include Jack Cayman from Madworld by Roth, Blanka and Carl Fredrickson by Bradley Lindsay. See more at Cubeecraft.com.