Posts Tagged 'MechaBunny'
Nick Knite has released the black and white custom paper toys that were on display at the Blooom! Art Show in Cologne, Germany. The new customs include awesome designs by Sal Azad, Tougui, Olla Boku, Dyadic, SaltnPaper, Jason Bolt, Marko Zubak, Greenelf and Oh-Sheet. Grab the templates at Nick's website and check out a cool video from the show by clicking the link below.
Style Needs No Color – Art Fair21/Blooom Cologne 2010 from SNNC on Vimeo.
Nick is also hosting a contest with ECKO Unltd. where you can win some ECKO gear. All you have to do is customize Nick's ECKOrhino paper toy and submit it by December 31, 2010. For more details on the contest, visit ecko-unltd.de/unltd/paperrhino Note: the website is in German, google.com/translate will come in handy.
Get creative and good luck!
Hey Gang! We've been working on a few new customs for some of our favorite paper toy artists and we're excited to finally share them with all of you.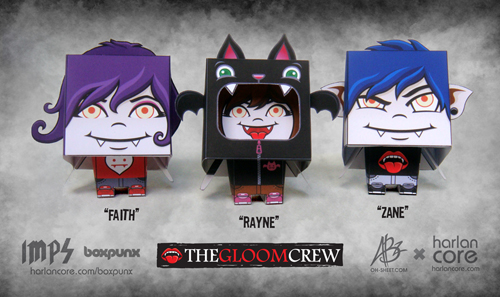 First we have The Gloom Crew, comprised of the three little monsters you see above. These are customs of the IMPS paper toy created by our friend Jason Harlan aka Harlancore. Download The Gloom Crew here and be sure to visit Harlancore.com to download the original Boxpunx Series Nine IMPS and other great Boxpunx paper toys.
The next few customs were for another one of our friends, Nick Knite, the creator of the Sizza and MechaBunny paper toys.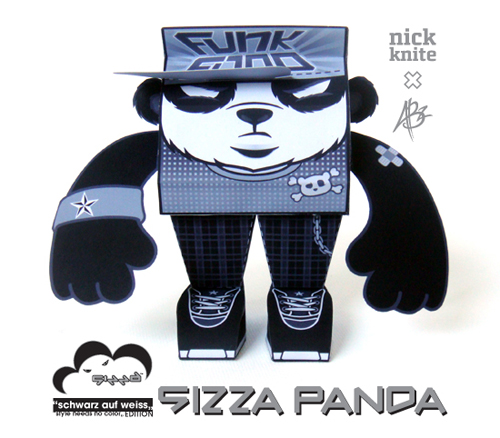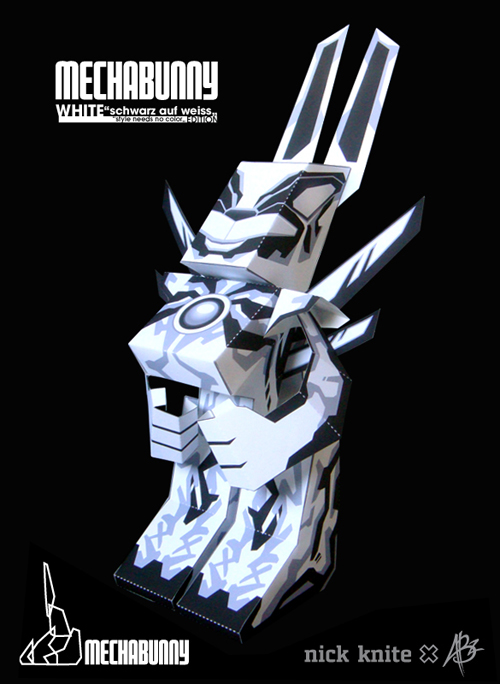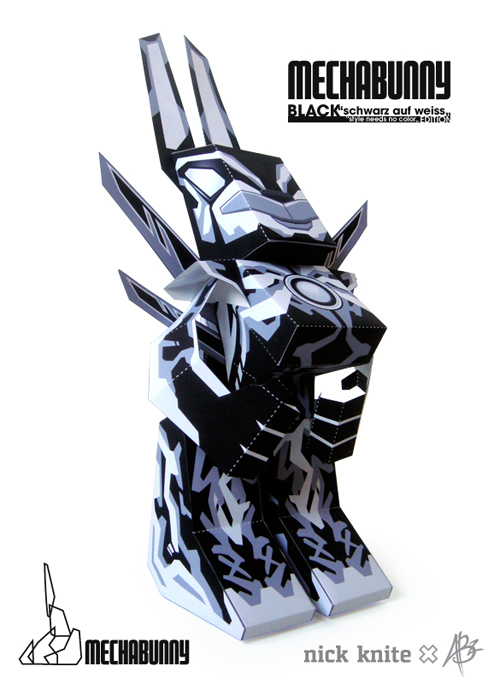 You'll notice these three customs have something in common, they are all black and white. The theme for these is "Schwarz Auf Weiss" – "Style Needs No Color" and they'll be exhibited at BLOOOM – The Creative Industries Art Show from October 28th to November 1, 2010 in Staatenhaus am Rheinpark, Cologne. Visit blooom.de for more info. If you live in or near the area, please check it out.
Until next time… happy building.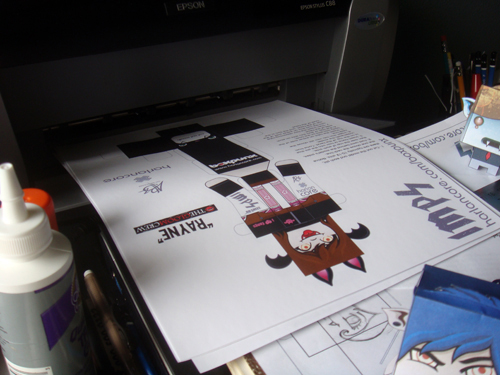 Fresh Ink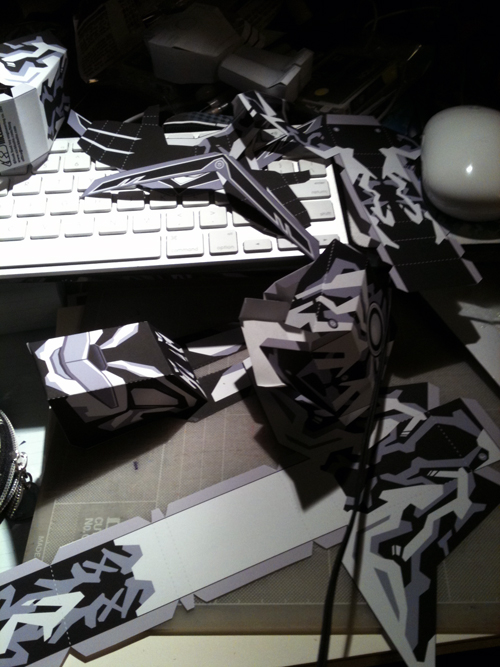 Late Night Construction
Our friend and fellow paper toy artist, Nick Knite just released the second series of his MechaBunny paper toy platform, the Mecha6.
Series two features customs from artists Sal Azad, Olla Boku, Greg Madden, Scott Shaller, VinsArt and Abz (Oh-Sheet). Head over to Nick's site, nickknite.com, to download the Mecha6 and be sure to check out series one as well! Thanks Nick! For more about the the making of Abz's custom MechaBunny, visit her blog at cranklabs.blogspot.com.